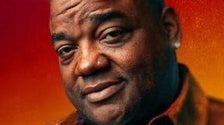 Legislation enforcement authorities are going through questions and criticism over how a lot time elapsed earlier than police put a cease to the rampage by a gunman who killed 19 youngsters and two adults.
However one media pundit assessed the reviews and supplied a very weird excuse: for cops, the danger wasn't well worth the "reward."
Jason Whitlock, a former ESPN journalist who now works for conservative outlet The Blaze, shared a soak up response to a tweet by right-wing disinformation peddler Jack Posobiec, who puzzled why "armed Texans" didn't go after the gunman.
Whitlock stated he wasn't defending the police, however claimed that America has "demonized legislation enforcement to the purpose that there are far fewer rewards for being a hero, for taking dangers."
"When your tradition makes George Floyd the hero, actual heroes stand down. Cultural rot has penalties," he added. Floyd, a Black Minneapolis resident who was murdered by Officer Derek Chauvin throughout an arrest in 2020, turned a logo in nationwide protests in opposition to police brutality towards folks of colour.
Whitlock's concept fired up loads of Twitter customers, lots of whom have been joyful to level out the failings within the argument.